Our Background
In designing Urban Tails, we focused on creating a pet care facility that would provide Houston's busy professionals with a safe, fun, and flexible environment for their pet to stay, learn, and play with their friends. We offer a one-stop shopping experience for your pet care needs and strive to serve as your pet care partner. Urban Tails is a fully licensed pet care facility operated by pet care professionals. We bring the latest knowledge and tools from our industry to the daily care of your pets.
Our Philosophy
Partnering with parents - one pet at a time! Our primary goals in providing care are:
Personal service - know each pet and their owner
Partner in health & behavior concerns with you
Create an environment where pets enjoy spending their time away from home
Minimize stress for pets while owners are away
---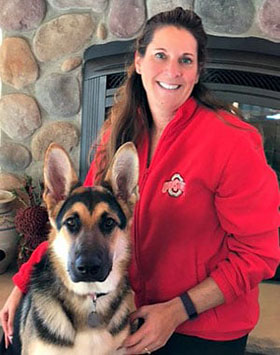 Meet Our Owner
Gretchen Meienburg, RVT, CKO, is the owner of Urban Tails Pet Resort. She also owns Willow Wood Pet Resort in New Albany, Ohio and Pampered Pets Bed & Biscuit with locations in Ohio and Indiana. Gretchen has a degree in Biology and Veterinary Technology. She was an active member of the Pet Care Services Association starting in 2002 and was elected to the Board of Directors in 2006. She served as Ethics and VFA Committee Chair and lead the team to develop the PCSA Standards for the Pet Industry.
Gretchen's goal is to promote high standard of care for all pets staying in Pet Care Facilities. She is the founder of MayCastle Consulting LLC and helps individuals achieve their dream of operating a highly successful Pet Care Business. Gretchen has an excellent understanding of pet care operations and experience to quickly identify opportunities for improvement. She also has a great network and will use it to get any answer needed by a client. Gretchen also trains Pet Care Facility operators and their staff on the operations of Atlantis Software to ensure they are using the program to its utmost capabilities and each facility is efficient with their procedures.
Gretchen and her husband of 30 years have three two-legged children and two fur babies; Siberian Husky Timber, and German Shepard Sasha.
---
---
Credentials
Arizona Canine Academy
Golden Paws & Job Pops Grooming Schools Certified
Pet Facility Operator Certified
Certified Pet Care Technicians or Advanced Certified Pet Care Technicians, Pet Care Services Association
Dog Language & Group Play Customized Training, Off-Leash Dog Play: A Complete Guide to Safety & Fun Pet
Tech Pet CPR & First Aid Certified